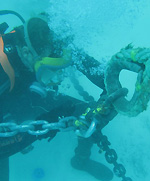 Fixed price servicing

Owning a mooring can be an expensive and uncertain outlay every year. With the combined costs of the MSQ yearly renewal and unpredictable amount of your annual survey, it can be very hard to budget for this boating necessity.
Whitsunday Moorings and Marine Construction is now taking the pain out of all of this.
For as little as $15.65 per week you receive the following benefits:
Never pay for parts for the life of the contract.
Never pay for labour, no matter what.
No need to pay your MSQ renewal we will pay it for you.
Easy weekly payments through our EZYPAY payment facility.
Contracts are fully transferable should you relinquish your mooring for any reason.
Start straight away simply by answering the following questionnaire and following the prompts.
Sign up now